Slate Wine Rack 31SWR1 has a capacity for 31 bottles of fine wine. This piece is fairly consistently grey in colour, with the inside of the cored out holes being lighter. It's very hard to find suitable pieces of slate for horizontal designs like this, and to have one 1.1m wide with this large capacity is even rarer, making it a truly unique item to have in one's kitchen, living space or commercial entertainment setting.
Related Products
ON SALE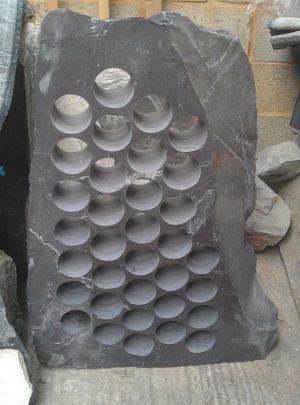 Slate Wine Rack 34SWR1
Slate Wine Rack 34SWR1 is a 1.1m tall upright wine holder with a 34 bottle capacity. The piece features five offset columns of holes and a beautifully textured and bevelled side.
£

900.00
Add to basket