Trophy Slate Wine Rack with capacity for 25 bottles of fine wine. Perfect for the wine enthusiast. Hand picked recently from my favourite quarry in North Wales near mount Snowdon.
Sawn base and core drilled using diamond tipped drill bits. I then retain all of the cores and more importantly re use them, splitting them down as coasters. Finishing them with oil and a felted base. Holes are approximately 90mm in diameter. Smaller beer bottle or larger champagne holes can be drilled upon request. Therefore the perfect size for storing both a standard size wine bottle and a slightly larger sparkling wine bottle.
Ideally suited on a kitchen floor due to the weight and interiors such as rustic vintage and modern contemporary style. This slate cooler wine rack can be engraved due to the flat and clean edge, a recent engraved example is 5swr37. All engraving is bespoke work and carries a turnaround time of approximately 2 weeks. This may extend during busy periods. Other popular gifts on the website include these Champagne Coolers and more recently these coffee / wine table designs.
Bespoke commissions are always welcome and currently carry a turnaround time of approximately 2 weeks, this can be longer during busy periods. Slate is a great material that maintains a constant temperature and it will chill your wine nicely. It will not expand and contract like other materials. Please do remember that each piece of slate is unique and different. I cannot guarantee the exact replication of any designs and I would not wish to. Finally, if you can't decide which rack to purchase, I would strongly recommend a trip to the workshop where I have over 100 racks in stock.
Contact us now to commission your bespoke wine rack.
Related Products
ON SALE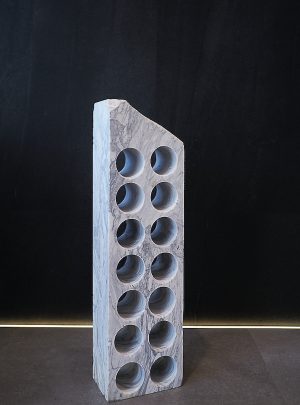 Marble Wine Rack 14MWR2
Marble Wine Rack 14MWR2 is a completely unique wine holder for 14 bottles, hand crafted in premium Carrera Marble ethically sourced from a quarry in Italy. The natural veins and colour running through this marble is quite something and it will make a truly wonderful talking point in any kitchen, living space or commercial setting. Cored in a linear fashion, two columns of seven holes.
£

1,599.00
Add to basket