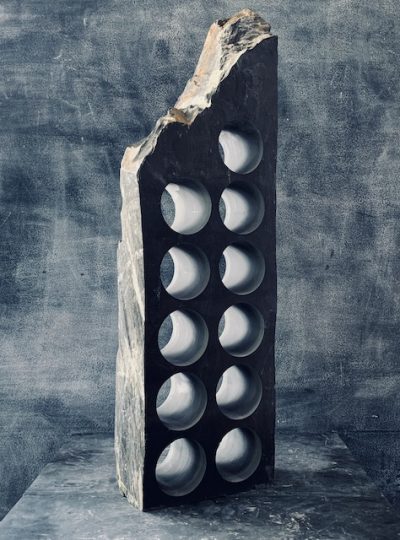 11swr15
Mountain shaped compact slate wine rack with capacity for 11 bottles of fine wine. Hand picked from the waste piles at a quarry in North Wales, near Snowdon.
The base is sawn and the holes carefully core drilled out in a straight uniform fashion. Holes are approximately 90mm in diameter.
£

330.00
Add to basket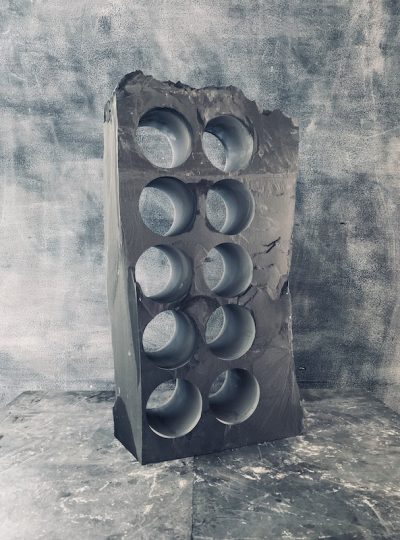 10swr13
Striking slate wine rack with capacity for 10 bottles of fine wine. This is a very compact design with a double width and a chunky chiseled top. Consistently grey in colour without any quartz lines or orange rustic tints which can be found in some pieces.
This slate has been hand picked from a quarry in North Wales, famous for its mountains and rugged landscape. It has then been sawn, drilled and dressed back in the workshop.
£

300.00
Add to basket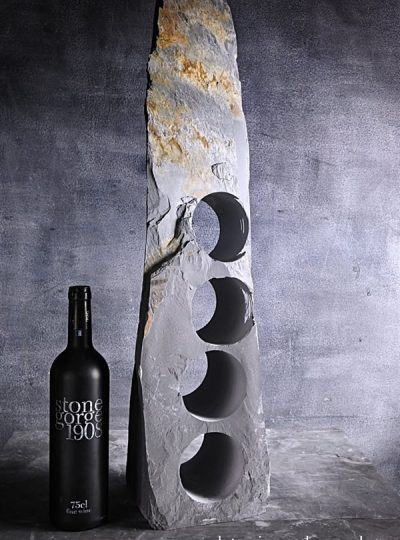 4swr94
This Slate Wine Rack makes a stunning interior feature, displaying up to four favourite bottles.
£

120.00
Add to basket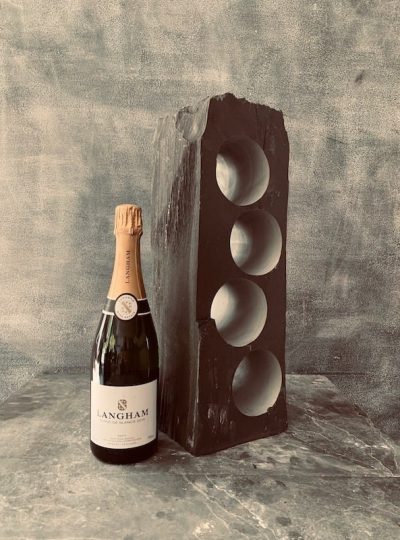 4swr97
Beautiful and subtle small slate wine rack tower for displaying four favourite wines.
£

120.00
Add to basket
Unique & Bespoke
Slate Wine Racks owner Ioan Raymond was born into a third generation of Coal Merchants in Pembrokeshire, West Wales. Drawing on elements of his childhood, Ioan developed a passion for creating bespoke wine racks from Welsh Slate.
Each slate wine rack is completely unique, markings differ massively with each piece having its own character. This is what really inspires Ioan as no two pieces are the same.
Regular trips back to Wales help Ioan retain his connection with Wales, picking out beautiful, unusual pieces to cut, work and shape, back in the workshop.
How To Buy
All slate wine racks listed in stock on this website are available to buy online. No two items are the same meaning every customer gains a wine rack that is completely unique to them.
Shipping is via direct delivery or via a trusted & insured courier. Delivery costs are tiered for small, medium & large pieces.
Ioan Raymond contacts all customers following purchase to discuss delivery date and any specific delivery requirements.