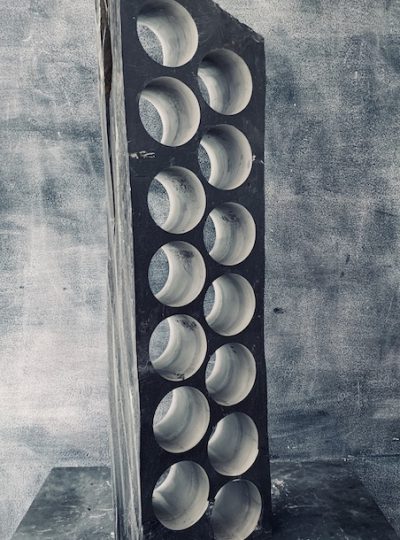 14swr11
Large slate wine rack cored drilled in a staggered, linear double row fashion. This doubless the storage capacity whilst minimising the floor space required.
A sloping top finishes off an endless streaky, wavey style natural edge. Predominantly grey in colour with a few rustic tints, this rack has only recently been added to the website.
The edge is slightly layered and quite clean so could accommodate a carving or engraving. These make great gifts for birthdays, weddings or anniversaries for that personal bespoke touch.
£

420.00
Add to basket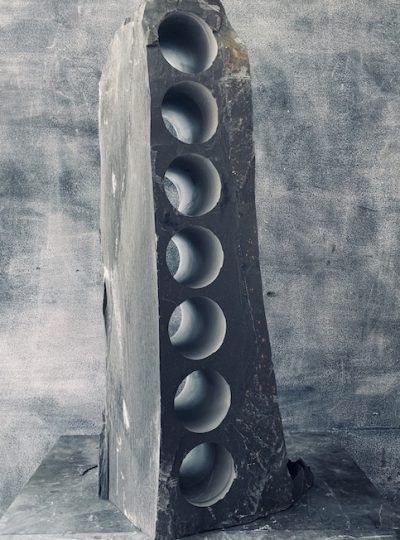 7swr50
Chunky slate wine rack. This is a popular vertical design with a neat chiseled top to resemble the mountains of North Wales.
This rack is quite chunky and has a sweeping curve down to the base on the lower right hand side.
£

240.00
Add to basket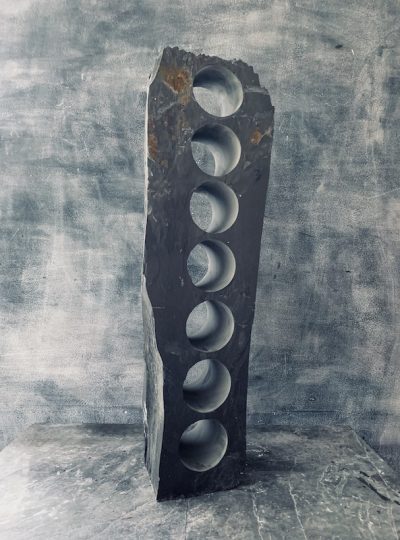 7swr61
Rapturous slate wine rack in a very popular design with a thin, narrow base but very tall in height.
Consistently grey in colour with a very small amount of 'fools gold' iron pyrite towards the top. Rough chiseled mountain top.
£

240.00
Add to basket
7swr62
Staggered Sail Wine Holder This is an absolute one off looking wine rack with a sweeping top to it. Drilled in a linear, staggered fashion.
Consistently grey in colour without any quartz lines or orange rustic tints which can be found in some pieces.
£

240.00
Add to basket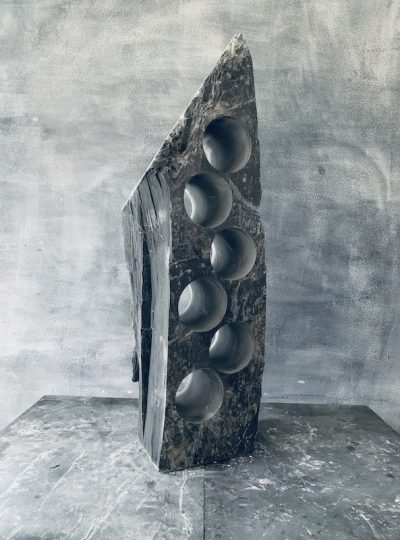 6SWR141
Bespoke Wine Holder in a very unusual shpe and style. Drilled in a staggered fashion leading upto a point.
This rack has a clean, curvy, wavy edge exposing lovely grain and layers in the slate. Stunning example of quality welsh slate.
£

210.00
Add to basket
6SWR151
Winning slate wine rack. This piece is stunning. I have never seen a piece like this before. This is by far my favourite rack at the moment. The curves and layers on this piece are out of this world.
Please see additional images in the gallery. I've tried to highlight each stand out part but there are so many.
£

650.00
Add to basket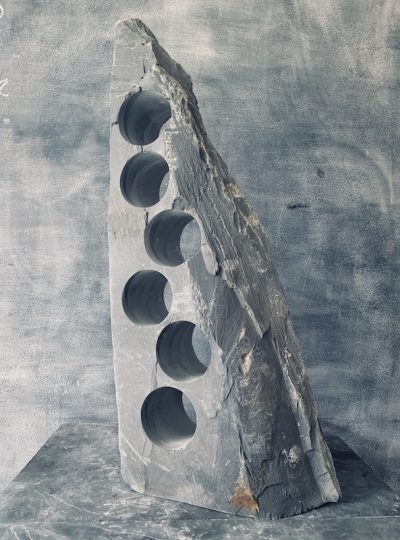 6swr125
Slate Wine Rack. Elegant shape with holes cored in a staggered fashion.
£

180.00
Add to basket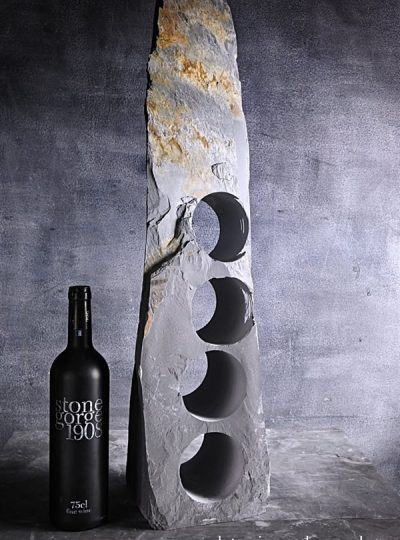 4swr94
This welsh gold wine rack makes a stunning interior feature, containing not one but two bands of iron pyrite in a streaky fashion across the top of the wine rack.
The top of this rack thins out and thus not suitable for coring but I retained it as the colours in this look amazing. For proper Welsh Gold check out Clogau for a great range of Welsh jewellery.
£

120.00
Add to basket
Barti Ddu Rum Tray
Barti Ddu Rum Rack made from Welsh Slate. Carved with a welsh dragon. Room for a bottle and two recessed holes for glasses.
£

95.00
Add to basket
5swr47
Small Compact Wine Holder in a quirky design.  5 holes drilled in an irregular fashion. Natural angled edge aswell as a rough chisled mountain top.
£

150.00
Add to basket
Unique & Bespoke
Slate Wine Racks owner Ioan Raymond was born into a third generation of Coal Merchants in Pembrokeshire, West Wales. Drawing on elements of his childhood, Ioan developed a passion for creating bespoke wine racks from Welsh Slate.
Each slate wine rack is completely unique, markings differ massively with each piece having its own character. This is what really inspires Ioan as no two pieces are the same.
Regular trips back to Wales help Ioan retain his connection with Wales, picking out beautiful, unusual pieces to cut, work and shape, back in the workshop.
How To Buy
All slate wine racks listed in stock on this website are available to buy online. No two items are the same meaning every customer gains a wine rack that is completely unique to them.
Shipping is via direct delivery or via a trusted & insured courier. Delivery costs are tiered for small, medium & large pieces.
Ioan Raymond contacts all customers following purchase to discuss delivery date and any specific delivery requirements.