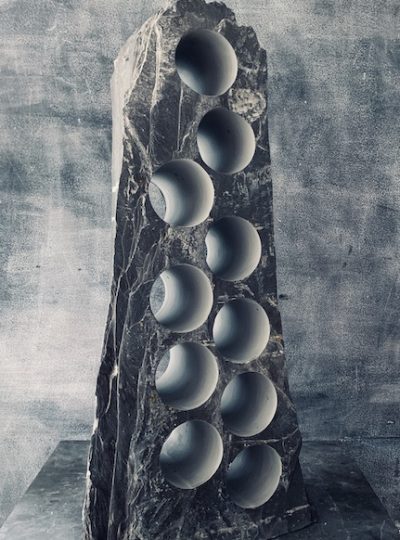 10swr11
Nice curved base with a rough chiseled mountain top. This rack is quite chunky at 190mm thick. This is easily my favourite rack on the website at the moment. This just looks like it's come straight out of the mountain.
Holes are approximately 90mm in diameter. All the cores are retained and split down as coasters. Oil'd and felted to finish. Sold in packs of 4 or 8. This is the perfect size for storing both a standard size wine bottle and a slightly larger sparkling wine bottle.
£

450.00
Add to basket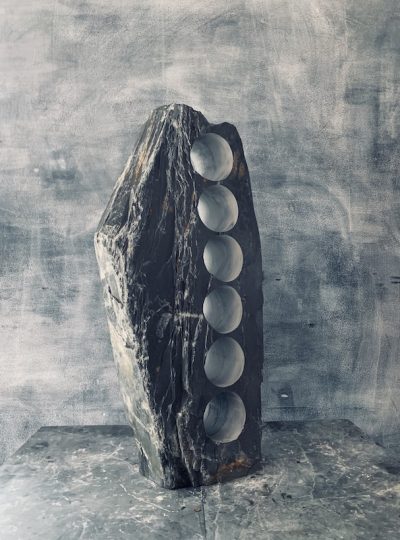 Slate Wine Rack 6SWR159
Slate Wine Rack 6SWR159 is a much larger piece with holes cored in a clean linear fashion, with a unique curve and extended edge on the left hand side.
Please see additional images in the gallery. I've tried to highlight each stand out part but there are so many.
£

210.00
Add to basket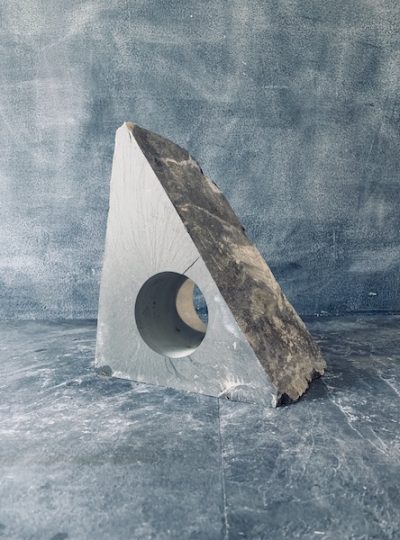 1swr8
Single Hole Wine Holder. NIce and simple and the smallest rack I make. Sloping triangular shape. Greay face with a weatherd top edge.
This small, simple design makes a great gift and has a very natural, mountain feel to it.
£

30.00
Add to basket
Unique & Bespoke
Slate Wine Racks owner Ioan Raymond was born into a third generation of Coal Merchants in Pembrokeshire, West Wales. Drawing on elements of his childhood, Ioan developed a passion for creating bespoke wine racks from Welsh Slate.
Each slate wine rack is completely unique, markings differ massively with each piece having its own character. This is what really inspires Ioan as no two pieces are the same.
Regular trips back to Wales help Ioan retain his connection with Wales, picking out beautiful, unusual pieces to cut, work and shape, back in the workshop.
How To Buy
All slate wine racks listed in stock on this website are available to buy online. No two items are the same meaning every customer gains a wine rack that is completely unique to them.
Shipping is via direct delivery or via a trusted & insured courier. Delivery costs are tiered for small, medium & large pieces.
Ioan Raymond contacts all customers following purchase to discuss delivery date and any specific delivery requirements.