Stone Wine Rack 1PSWR1 was hand picked from a quarry on the Isle of Portland, Dorset, on the world famous Jurassic Coast. A unique design sawn on all edges with another sharper angle sawn on the front drawing your eye into the cored out hole in the stone. As the edges are sawn, these can be carved and logos / branding added for publicity and events e.g. "Wine of the week", "Gin of the week".  Engraving possible on either left hand or right hand side edges.
A great example of a recent engraving design is 5swr37 which is available on the website now. Portland Stone is a great material to work with and very popular amongst artists and sculptors. Portland stone is used on a number of famous buildings across London. If you do like Stone Wine Rack 1PSWR1 but would like to commission your own design then please contact me. Other popular gifts on the website include these Champagne Coolers and more recently these coffee / wine table designs.
Stone is a great material that maintains a constant temperature resulting in a natural chill to your wine, therefore does not expand and contract like other materials. Please do remember that each piece of stone is different. I cannot guarantee the exact replication of any designs and I would not wish to. Finally, if you can't decide which rack to purchase, I would strongly recommend a trip to the workshop where I have over 100 racks in stock. Contact us now to discuss your requirements in more detail. Please view the Gallery for ideas and images of my designs in clients homes.
Related Products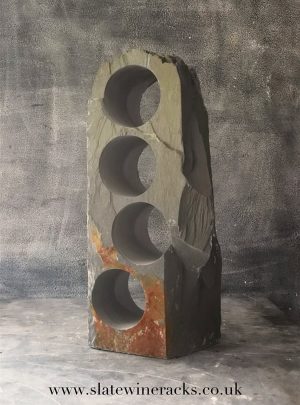 Slate Wine Racks 4SWR87
Display wine bottles as an interior design feature with this stunning unique slate wine rack. The bottom of the face is completely covered in 'fools gold' iron pyrite which gives these piece great character.
£

150.00
Add to basket