Portland Stone Ledge Rack PSL1 has been designed to display and store your favourite wine in style. Hand picked direct from the quarry in Portland, Dorset, it was cut down to size with diamond tip blades, then the bottle holes are core drilled at 90mm. I've chiselled the top edge to reflect the rough coastline that spans 96 miles across the south of England. The ledge has been cut and chiseled out, the perfect height for standing a bottle upright. The ledge has also been drilled and has a hidden LED light mounted underneath. This piece can be carved and customised to your requirements.  All engraving is bespoke work and as a guide, it carries a turnaround time of approximately 2 weeks. This can be slightly longer during very busy periods. Please see my gallery for additional images and this ledge lit up with Bombay Sapphire for example purposes.
Related Products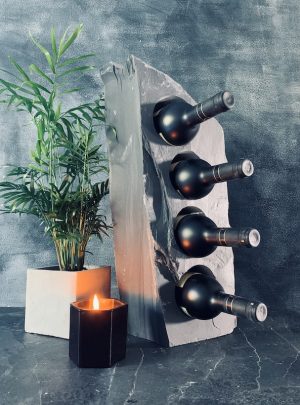 Slate Wine Rack 4SWR121
Slate Wine Rack 4SWR121 is a small wine holder hand crafted from genuine Welsh Slate, with a capacity for 4 bottles in a linear pattern. The clean natural edges of this piece give it a subtle organic ambience. A beautiful gift for a wine loving friend or family member.
£

159.00
Add to basket