Slate Wine Table with 2 holes for wine and a glass top. Each block of slate will vary slightly in size but the height will be consistent at 300mm high. Glass top is 350mm diameter, 6mm thick toughened glass. Fixed to the top of the slate with 4 x suction pads so can easily be removed. Holes are approximately 90mm in diameter. All the cores are retained and split down as coasters.
These can be drilled to your specification as I have a number of cores with different diameters. The glass can easily be removed from the suction pads for ease of transportation. The slate is from North Wales and hand picked from a slate quarry near to Snowdonia I have made quite a few of these now and refined the process considerably.
If you like this design but would like to modify this then please contact us with your requirements. An alternative slate wine table design is also available here, which doesn't have the glass, just a sawn top. These could be made bigger, with more holes, larger glass tops etc. A previous commission consisted of 16 x holes drilled 2 x wide with a sawn top for a table lamp to rest on.
Consideration just needs to be given to the weight as a large piece, even though it's drilled out is still weighs quite a lot. A sturdy floor is recommended however we can make up a slate base to be able to spread the weight evenly and prevent any damage to tiles. Please do remember that each piece of slate is different. I cannot guarantee the exact replication of any designs and I would not wish to.
Finally, if you can't decide which rack to purchase then I would recommend a trip down to the workshop.
Related Products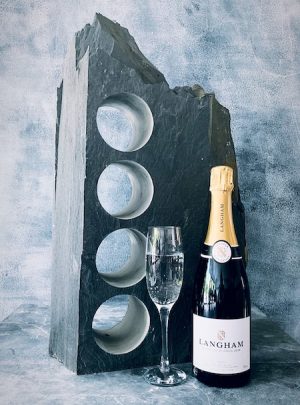 4SWRL1
Combination slate wine rack with capacity for 5 bottles of fine wine. 4 bottles fit horizontally then a ledge can be cut out for a further bottle to sit vertically, displaying the label. This purposely hasn't been cut yet so it can be made to your specific requirements. This could be made for a Champagne Bottle, Wine or Gin bottle size. Ideally the top of the bottle would finish parallel with the slate edge.
Please see additional images for previous designs and how this will finally look. This combination slate wine rack ledge can be cut to size to fit your bottle perfectly.
£

175.00
Add to basket