Slate Wine Rack 8SWR81 has a capacity for 8 bottles of fine wine or champagne. Holes are 90mm core drilled in a staggered fashion. The cores once removed are split down and used as coasters and can be found on the website here. This medium size wine rack has a stunning bit of detail on the left hand side of this wine holder where the slate would have been drilled for explosives to blast the rock. This is extremely rare to find these days. Although a large rack in terms of height, larger slate wine racks providing much more wine storage capacity can be found in the large size wine rack section of the website.
This Slate Wine Rack 8SWR81 would make a perfect gift for a wine lover.
We can provide a slate base free of charge with this slate wine rack if you're concerned about its stability.
Sourced from a quarry in the heart of North Wales. Please see our 5 Star Reviews from previous clients.
Contact us now to commission your bespoke slate wine rack.
Related Products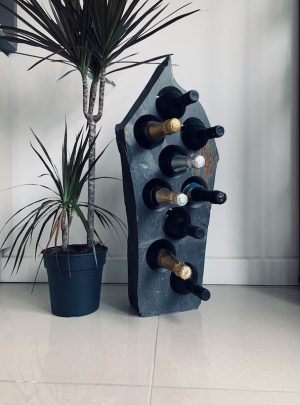 Slate Wine Rack 9SWR13
Transcendent slate wine rack which is rather unsual in that the top is wider than the base. This has both an angle and a curve. Mostly grey in colour with some nice splashes of 'fools gold' iron pyrite splashed across the face.
£

325.00
Add to basket
You may also like…
Round Slate Coaster – Pack of 4
Round Slate Coasters, beautiful and simple natural stone to support your favourite wine glasses (or mugs of tea!).
Sold in packs of 4 coasters, large quantities available.
£

15.00
Add to basket