Slate Wine Rack 20SWR3 has a capacity for 20 bottles of fine wine. This is a very unusual pyramid shape as lumps of this size and shape are difficult to source from the quarry. Holes are cored in a linear fashion. These cores have been reused, split down and re used as coasters. Consistently grey in colour without any quartz lines or orange rustic tints which can be found in some pieces. If you like this Slate Wine Rack 20SWR3 design but want something bigger then check out 50swr1. A sturdy floor is recommended and I can make up a slate base to be able to spread the weight evenly and prevent any damage to tiles for additional cost. These make great gifts for wine lovers, birthdays or anniversaries and can also be engraved to add that personal touch, get in touch for bespoke requirements.
Related Products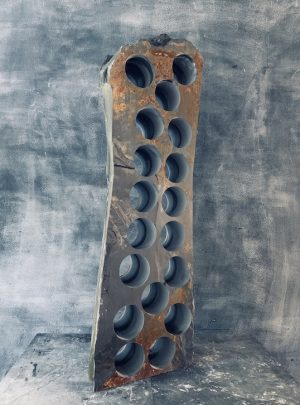 Slate Wine Rack 18SWR1
Stunning tall supreme slate wine rack with the popular copper colour tints running through the slate, often referred to as fools god. Technical term is iron pyrite. This is a very popular design with a thin, narrow base but very tall in height, making efficient use of restricted floor space. Holes are cored in a linear fashion. Double width and sometimes triple staggered.
£

575.00
Add to basket