Slate Wine Rack 14SWR11 is an upright wine holder with capacity for 14 bottles of fine wine, with the holes approximately 90mm in diameter to fit standard size bottles. Selected from the quarry in North Wales near Snowdonia, this is hand crafted from the best quality slate available. A sloping top finishes off an endless streaky, wavey style natural edge. Predominantly grey in colour with a few rustic tints, the edge is slightly layered and quite clean so could accommodate a carving or engraving, available at additional cost. These make great gifts for birthdays, weddings or anniversaries for that personal bespoke touch. Suited to worktop height at 850mm high, alternaitvely could sit alongisde or at the end of a run of cabinets. Slate is a great material that maintains a constant temperature and it will chill your wine nicely. It will not expand and contract like other materials. A sturdy floor is recommended however we can make up a slate base to be able to spread the weight evenly and prevent any damage to tiles.
Related Products
ON SALE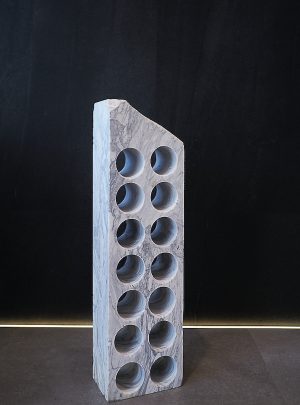 Marble Wine Rack 14MWR2
Marble Wine Rack 14MWR2 is a completely unique wine holder for 14 bottles, hand crafted in premium Carrera Marble ethically sourced from a quarry in Italy. The natural veins and colour running through this marble is quite something and it will make a truly wonderful talking point in any kitchen, living space or commercial setting. Cored in a linear fashion, two columns of seven holes.
£

1,599.00
Add to basket