Portland Stone Table Lamp. Crafted from a single core of Portland Stone, from the Jurassic Coast, World Heritage Site, Dorset, UK.
Core drilled to conceal cable and stem. Bottom side outlet for cable to feed through stone.
This recycled Portland Stone Table Lamp has been cored out to precision from a larger piece of stone used for wine racks. The inner core has been removed, polished, core drilled and the appropriate fixings and cabling added to transform this into a nice, contemporary design. This will suit both a modern contemporary them or an older style, rustic, vintage environment.
The Colour of the stone will remain the same through each design, however due to the natural make up of the stone, some may contain more fossils than others. We love fossils, the more the better, gives the design character, but not everyone agrees with us.
These can be customised and engraved with initials, names or phrases at an additional cost. Turaround time for bespoke work is currenlty around 2 weeks.
Large quantities available. These can also be made to your individual spec. Contact us now to discuss further.
Related Products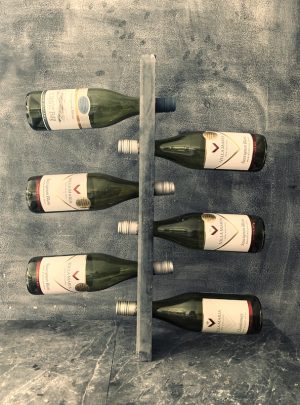 Wall Mounted Wine Rack
Wall Mounted Wine Rack core drilled from real Welsh Slate with a capacity for 6 bottles of fine wine. Please note this is core drilled precisely for screw top bottles only. The bottle tops fit exactly which keeps the wine bottle nice and level.
£

95.00
Add to basket