Stone Wine Rack PSEWR1 was hand picked direct from the Quarry in Portland, Dorset, on the world famous Jurassic Coast. Cut down to size with diamond tip blades, it's then ready for drilling. The stone is cored overlapping the edge slightly, ensuring there is enough stone kept to retain strength but also to enable the bottle to be stored securely in the curve. Holes approximately 90mm diameter which are perfect for wine bottles and larger sparkling wine bottles. Finally, the stone has been completely wet polished using a medium grade. This gives the stone a stunning finish and exposes internal markings perfectly. The Langham wine is not included and is for scaling purposes only.
Related Products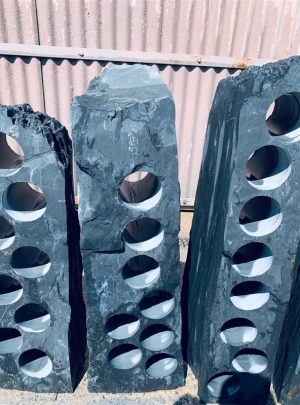 Slate Wine Rack 8SWR39
Detailed and textured slate wine rack tower for up to 8 wine bottles. Consistently blue/grey in colour with the inside of the cored out holes being lighter.
£

270.00
Add to basket