Slate Wine Rack 8SWR21 is a medium size wine rack, 680mm tall, with capacity for displaying 8 bottles of fine wine. The base is sawn flat for stability and the bottle holes are core drilled using diamond tipped drill bits. I then retain all of the cores and more importantly re use them, splitting them down as coasters, available in the Basket when purchasing. Bottle holes are approximately 90mm in diameter, the ideal size for storing both a standard size wine bottle and a slightly larger sparkling wine bottle. Pictured with a bottle of award winning Langham wine (not included). Ideally suited on a kitchen floor due to the weight and interiors such as rustic vintage and modern contemporary style. This slate cooler wine rack can be engraved due to the flat and clean edge, a good engraved example is 5swr37 All engraving is bespoke work and carries a turnaround time of approximately 2 weeks, please contact me for a quote.
Related Products
ON SALE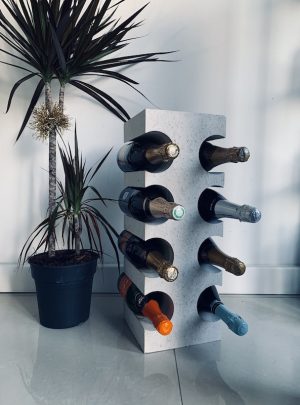 Stone Wine Rack PSEWR1
Portland Stone Wine Rack PSEWR1 has been designed to elegantly display fine wine, highlighting the labels of up to 8 favourite bottles.
£

800.00
Add to basket