Stone Wine Rack 6PSWR14 has a capacity for 6 bottles of fine wine. The face is sawn with a chiseled corner to complement the natural rugged top, which allows an insight into the make up of this stunning stone. The right hand side edge is filled with fossils and shells. A great clean example of this world famous stone from Portland, Dorset.
| | |
| --- | --- |
| Dimensions | 235 × 145 × 920 mm |
| Material | Portland Stone |
| Capacity | 6 |
| Size | Medium |
Stone Wine Rack 6PSWR14 was hand picked from a quarry on the Isle of Portland, Dorset, on the world famous Jurassic Coast. This medium wine holder has a sawn flat base with sawn sides which have been chiseled to give a rough, rustic, weathered feel. The left hand edge is clean and white, which makes this perfect for engraving, whilst the right hand side is full of fossils and natural characteristics. Even though this would suit a clean, contemporary decor, the natural weathered tones keeps this piece honest and exaggerates it's natural make up. Core drilled slightly off centre to the right to provide the option of engraving the front face. Please view the Gallery for ideas and images of my designs in clients homes.
Related Products
ON SALE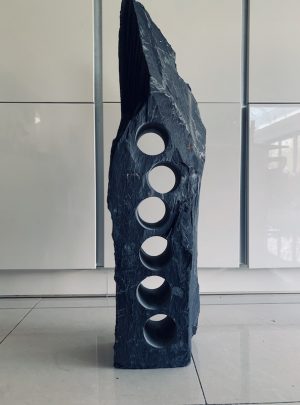 Slate Wine Rack 6SWR151
Slate Wine Rack 6SWR151 is a stunning tower of natural Welsh Slate to showcase up to 6 favourite bottles. This beautiful piece is one of my favourites to come through the workshop, the detail in the stone is breathtaking and it is certain to be a focal point in any interior design.
£

500.00
Add to basket