Small Compact Wine Holder from slate with capacity for 5 bottles of fine wine. The cores have been reused, split down and re used as coasters. These are available on the website now. The bases are felted and oil'd to finish. Consistently grey in colour without any quartz lines or orange rustic tints which can be found in some pieces.
This slate has been hand picked from a quarry in North Wales, famous for its mountains and rugged landscape. It has then been sawn, drilled and dressed back in the workshop. Slate consists of unique properties which will keep your wine at a consistently cool temperature. It won't expand and contract like other materials. All you have to do is ensure it's regularly filled up. If you like this small compact wine holder but want something bigger then 14swr11 is a good choice as it has an extra column for wine. This design would suit any style kitchen, at the end of a run of units or a worktop. If you have any further questions about this particular design then please contact us now.
A sturdy floor is recommended however I can make up a slate base to be able to spread the weight evenly and prevent any damage to tiles. These make great gifts for wine lovers, birthdays, anniversaries and celebrations. They can also be engraved to add that personal touch. Please do remember that each piece of slate is different. I cannot guarantee the exact replication of any designs and I would not wish to.
Finally, if you can't decide which rack to purchase then I would recommend a trip down to the workshop. By appointment.
Related Products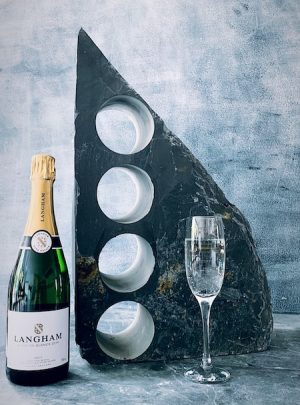 4SWRL2
Combination slate wine rack with capacity for 5 bottles of fine wine. 4 bottles fit horizontally then a ledge can be cut out for a further bottle to sit vertically, displaying the label. This purposely hasn't been cut yet so it can be made to your specific requirements. This could be made for a Champagne Bottle, Wine or Gin bottle size. Ideally the top of the bottle would finish parallel with the slate edge.
Please see additional images for previous designs and how this will finally look. This combination slate wine rack ledge can be cut to size to fit your bottle perfectly.
£

175.00
Add to basket