Slate Wine Cooler core drilled twice to perfection. Place your sparkling wine, champagne or prosecco into the cooler and just add ice. Hand picked direct from the quarry waste pile in North Wales, famous for its rugged mountains. Firstly core drilled out from the production of a slate wine rack using diamond tips. Secondly, cored drilled once again with a smaller diameter of approximately 90mm. Thirdly, this is polished for a nice smooth finish. Finished off with a light oiling to darken and protect the slate. A bottle of Brecon Gin fits perfect into this.
Alternative popular gifts on the website include these coffee / wine table designs. Slate wine cooler designs can also be engraved and make for great gifts for weddings, birthdays or anniversaries. Recent examples of engraved wine racks on a polished surface is 5swr37 Bespoke commissions carry a lead time of apprxiamtely 2 weeks, but may be longer during busy periods in the workshop.
Commissioned by a long term client to add to their exclusive slate range. These slate wine coolers act as great centre pieces for tables of large groups.
Large stock quantities available to accommodate bulk orders.
If you require something similar or have ideas on different designs then please get in touch. I enjoy working collaboratively on new designs. Slate is a great material that maintains a constant temperature and it will chill your wine nicely. It will not expand and contract like other materials do. Please do remember that each piece of slate is different. I cannot guarantee the exact replication of any designs and I would not wish to.
Finally, if you can't decide which rack to purchase, I would strongly recommend a trip to the workshop where I have over 100 racks in stock.
Contact us now to commission your own individual bespoke wine rack.
Related Products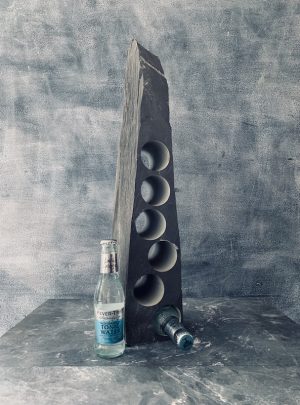 6TBR1
Slate Tonic Bottle Rack alternatively could be used as a spice rack. Holes are approx 55mm diameter and perfect smaller holes for minis and tonic bottles.
Consistently grey in colour with the inside of the cored out holes being slightly lighter. Traingular shape with a wide base and reducing nearer the top.
This small slate tonic bottle rack makes as a great little gift for a Gin Lover.
£

135.00
Add to basket
You may also like…
10swr1
Tower shaped slate wine rack. Cored in a 2 tier staggered fashion. Consistently grey in colour with the inside of the cored out holes being lighter. Unique split ledge style edg giving it real character.
£

330.00
Add to basket