Raw Slate Wine Rack with capaicy for 3 bottles of fine wine. Hand picked recently from my favourite quarry in North Wales near mount Snowdon. Sawn base and core drilled using diamond tipped drill bits. I then retain all of the cores and more importantly re use them, splitting them down as coasters. Finishing them with oil and a felted base. Holes are approximately 90mm in diameter. Smaller beer bottle or larger champagne holes can be drilled upon request. Therefore the perfect size for storing both a standard size wine bottle and a slightly larger sparkling wine bottle.
Ideally suited on a kitchen floor due to the weight and interiors such as rustic vintage and modern contemporary style. This raw slate wine rack is unable to be engraved due to its ruggedness, a suitable alternative engraved example is 5swr37 All engraving is bespoke work and carries a turnaround time of approximately 2 weeks. This may extend during busy periods. Other popular gifts on the website include these Champagne Coolers and more recently these coffee / wine table designs. Bespoke commissions are always welcome and currently carry a turnaround time of approximately 2 weeks, this can be longer during busy periods.
Slate is a great material that maintains a constant temperature and it will chill your wine nicely. It will not expand and contract like other materials. Please do remember that each piece of slate is unique and different. I cannot guarantee the exact replication of any designs and I would not wish to. Finally, if you can't decide which rack to purchase, I would strongly recommend a trip to the workshop where I have over 100 racks in stock.
Contact us now to commission your bespoke wine rack.
Related Products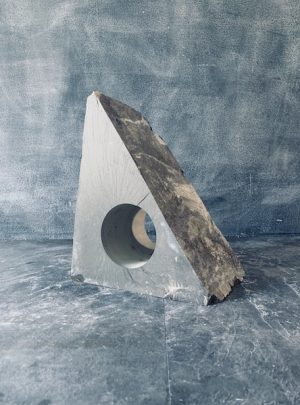 1swr8
Single Hole Wine Holder. NIce and simple and the smallest rack I make. Sloping triangular shape. Greay face with a weatherd top edge.
This small, simple design makes a great gift and has a very natural, mountain feel to it.
£

30.00
Add to basket
You may also like…
6swr114
Luxurious slate wine rack with a quirky unusual offset top. Deep grey with a splash of 'fools gold' iron pyrite right at the top.
£

250.00
Add to basket