Glencairn Glass Slate Tray with capacity for 4 glasses.
Core drilled straight through so entire tray can be picked up and glasses transported safely. Brass handles neatly fixed to the slate and oiled to finish.
I was lucky enough to purchase these limited edition black glasses as I just knew they would go well with the dark slate.
These trays can be toally customised. Please see carvings page for more examples of bespoke carved slate trays.
Another popular design is where a decanter sits in the middle of the slate. I then counter sink and carve out recesses in the slate for whisky glasses to sit on top of. Logos can be carved into the slate and these make great commermorative gifts.
Contact us now with your requirements.
Related Products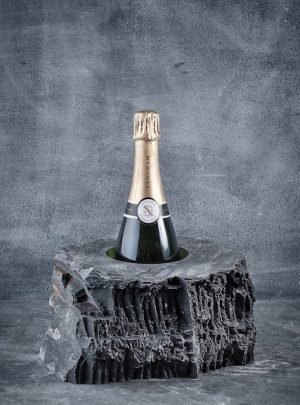 Slate Champagne Cooler
Stunning slate champagne cooler core drilled and hand chiseled to perfection. Place your sparkling wine, champagne or prosecco into the cooler and simply add ice.
These make a great table centre piece and can be engraved which makes them a popular gift. Each piece is totally unique.
£

60.00
Add to basket