Mountain shaped rack aptly named Dinorwig Slate Wine Rack as it resembles the slate mountain side. Check out some of the amazing climbing routes available in and around the Dinorwig slate quarry. Capacity for 4 bottles of fine wine. Local to Hampshire ? then check out Hambledon Vineyard. Sawn base and core drilled using diamond tipped drill bits.
I then retain all the cores and more importantly re use them, splitting them down as individual coasters. Finishing them with oil and a felted base.
Holes are approximately 90mm in diameter. Smaller beer bottle or larger champagne holes can be drilled upon request. Therefore the perfect size for storing both a standard size wine bottle and a slightly larger sparkling wine bottle. Ideally suited to a kitchen worktop as it takes up minimal space and interiors such as rustic vintage and modern contemporary style. Due to the clean finish, this rack can be engraved with names and a date to celebrate a wedding, anniversary or birthday celebration. Bespoke commissions are always welcome and currently carry a turnaround time of approximately 2 weeks, this can ben longer during busy periods.
A recent example of engraving work can be seen here 5swr37 Other popular designs include a range of champagne coolers and more recently wine / coffee tables. Slate is a great material that maintains a constant temperature and it will chill your wine nicely. It will not expand and contract like other materials. Please do remember that each piece of slate is different. I cannot guarantee the exact replication of any designs and I would not wish to. Finally, if you can't decide which rack to purchase, I would strongly recommend a trip to the workshop where I have over 100 racks in stock.
Contact us now to commission your bespoke wine rack.
Related Products
SOLD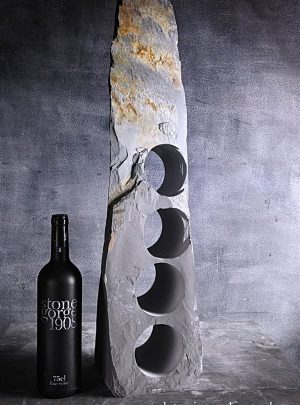 4swr94
This welsh gold wine rack makes a stunning interior feature, containing not one but two bands of iron pyrite in a streaky fashion across the top of the wine rack.
The top of this rack thins out and thus not suitable for coring but I retained it as the colours in this look amazing. For proper Welsh Gold check out Clogau for a great range of Welsh jewellery.
£

120.00
Read more