Discover hand crafted Christmas Gifts For Wine Lovers at Slate Wine Racks. With a huge choice of unique styles & sizes and even the type of natural stone, there is a perfect design for every one, making a it the perfect christams gift for wine lovers.
Wine Holders crafted from real natural stone make wonderful gifts for friends and family members who love both their wine and stylish interior pieces for the home. Every stone wine rack is entirely unique due to the inherent nature of the rock, with amazing details and contours that become a talking point in every home.
Welsh Slate is the most popular stone for wine racks, with it's cool blue/grey tones able to match a range of interior styles from traditional to modern. Portland Stone has a rich deep white-cream colour that looks great in contemporary settings. Marble is a premium option for those seeking out the ultimate luxury wine rack.
Small Wine Racks
These compact wine holders make great Christmas gifts for loved ones. With designs to hold between 1 and 4 bottles of wine there are pieces small enough to occupy window ledges or coffee tables up to small floor standing pieces.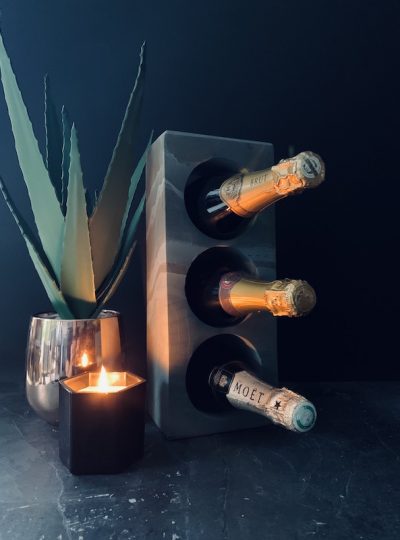 Slate Wine Rack 3GLS1
Slate Wine Rack 3GLS1 is a stunning green slate full of earthy tones. There are some beautiful natural markings running through this slate. It almost looks wavey or like layers of sand on top of each other. Perfect for a kitchen worktop and would suit a range of kitchen design styles.
£

90.00
Add to basket
Medium Wine Racks
Medium wine holders range from 6 to 9 bottle capacity and look great at the end of a run of kitchen worktops. Their sawn bases allow them to stand safely. The unique detailing and option to personalise make Slate Wine Racks perfect christmas gifts for wine lovers.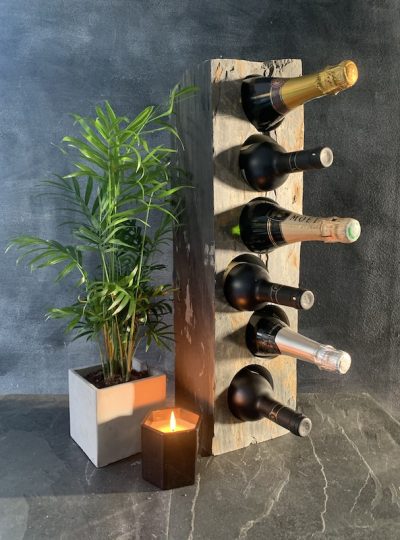 Slate Wine Rack 6SWR158
Slate Wine Rack 6SWR158 is a very nice piece with a sloping angled top and capacity for six favourite bottles. It also has a large amount of iron pyrite 'fools gold' throughout. The lower part of the rack is core drilled in a staggered fashion and as the slate narrows towards the top, they are cored in a linear fashion.
£

229.00
Add to basket
Large Wine Racks
For the true wine aficionados, premium size natural stone wine racks have a minimum capacity for 10 bottles and are the showpiece of any setting. All pieces are hand selected and crafted by Ioan Raymond in his Southampton workshop.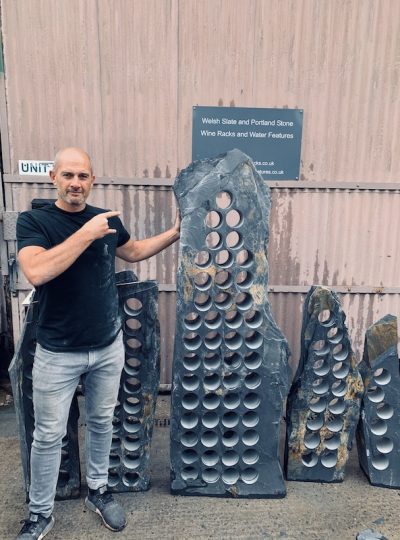 Slate Wine Rack 50SWR1
This premium Welsh Slate Wine Rack 50SWR1 is core drilled to showcase 50 bottles of fine wine in a 1.8m tower of natural stone. A sawn base enables this to stand upright, safely and securely. The edges and top are left completely natural, highlighting the textures of the finest quality Welsh Slate.
£

1,500.00
Add to basket