This Portland Stone Gin Shelf has been designed to display and store your three favourite bottles in style. Hand picked direct from the Quarry in Portland, Dorset, on the world famous Jurassic Coast, I've chiselled the top edge to try and highlight the rough coast line that spans 96 miles across Dorset. The stone is core drilled for the lights to be integrated and all 3 lights run off a single transformer. The stone has then been polished with varying grits to get a nice smooth polished finish. This piece can be engraved to custom requirements, please contact me for a quote.
Related Products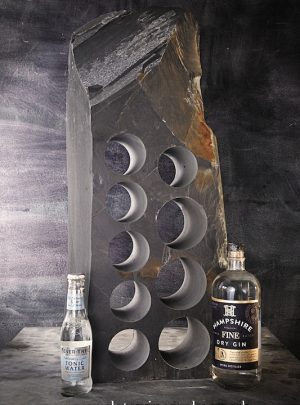 Slate Gin & Tonic Rack GT13
Slate Gin & Tonic Rack GT13 is a bespoke design with 6 bottle holes for Tonic and 3 for Gin. Consistently grey in colour with some nice splashes of 'fools gold' iron pyrite this slate has a beautifully layered top. The perfect gift for a lover of modern Gin craft bottles.
£

210.00
Add to basket