Slate Wine Rack 7SWR45 is a medium wine rack with a capacity for seven bottles of fine wine. This has got a lovely curve at the top which looks just like a ships sail. This effect is so difficult to make from the slate as it is normally straight and angled and very rarely have I seen a natural curve quite like this. Consistently slate grey in colour with the inside of the cored out holes being lighter.
Related Products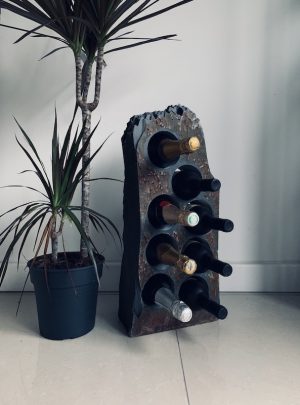 Slate Wine Rack 8SWR62
Bespoke Wine Holder slightly wider than the normal design with holes cored double width.
Mainly grey in colour with some decent splashes of 'fools gold' iron pyrite.  Superb chiseled top.
£

270.00
Add to basket