Slate Wine Rack 5SWR52 is stunning tower of real Welsh Slate with capacity for five bottles of fine wine. This is a very popular style of design, with a narrow base and a mountain slope top. Holes are cored in a staggered, linear style fashion. These cores have been reused, split down and re used as coasters. These are available in the basket when purchasing this small wine rack. The bases are felted and thus oil'd to finish. Consistently grey in colour without any quartz lines or orange rustic tints which can be found in some pieces. Hand picked from a quarry in North Wales, famous for its mountains and rugged landscape.
Related Products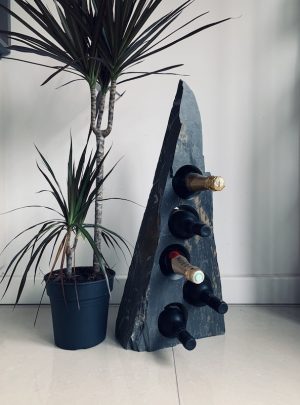 Slate Wine Rack 5SWR55
Slate Wine Rack 5SWR55 is a stunning mountain shaped wine holder to showcase up to 5 favourite bottles. Predominantly grey in colour with a few splashes of iron pyrite, it has an angular with sawn base and natural edges.
£

180.00
Add to basket