A magnificent piece of real Welsh slate, Slate Wine Rack 10SWR13 is a stunning example of this highly sought after natural stone. Holes are cored in a double linear fashion on this striking slate wine rack, these cores have been split down and are available as coasters in the basket. This could be a perfect wine holder for displaying two types of wine, a combination of rosé and white could work well.
*RESERVED HL*
Related Products
SOLD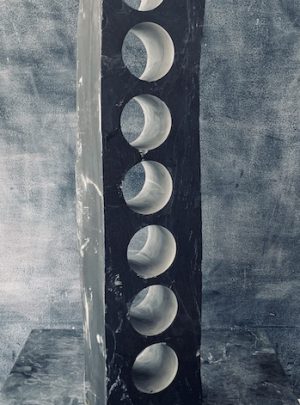 Slate Wine Rack 7swr57
Tall slender slate wine rack. Consistently grey in colour without any quartz lines or orange rustic tints which can be found in some pieces. This is one of my most popular designs with the holes drilled in a vertical linear fashion. Narrow at the base but tall in height. The top has an angled point.
£

240.00
Read more