Slate Tonic Bottle Rack alternatively could be used as a spice rack. Holes are approx 55mm diameter and perfect smaller holes for minis and tonic bottles.
Consistently grey in colour with the inside of the cored out holes being slightly lighter. Traingular shape with a wide base and reducing nearer the top.
This small slate tonic bottle rack makes as a great little gift for a Gin Lover.
| | |
| --- | --- |
| Dimensions | 130 × 140 × 610 mm |
| Material | Welsh Slate |
| Capacity | 6 |
| Size | Small |
Slate Tonic Bottle Rack with capacity for 6 small bottles.  Hand picked from a quarry in North Wales, famous for its mountains and rugged landscape. A mecca for walkers and climbers.
Sawn base to make it nice and stable. Firstly, the slate is core drilled, the cores are then split and retained and recycled as coasters. Bases felted and oil'd to finish. Secondly, the top has been carefully chiseled to reflect the mountains of North Wales.
Alternatively, if you do require something slightly bigger, GT9 very similar in style and presence. When asked to recommend a favourite Tonic, Fever Tree is always a good choice.
Great gifts for Birthdays, Anniversaries, Weddings or special events. They can also be engraved for that personal touch. All engraving is bespoke work and carries a turnaround time of approximately 2 weeks. This may extend further during busy periods. Other popular gifts on the website include these Champagne Coolers and more recently these coffee / wine table designs. Slate is a great material that maintains a constant temperature which will chill your wine nicely. It doesn't expand and contract like other materials.
If you have any further questions about this curvy slate tonic rack design then please contact us now. Please do remember that each piece of slate is different. I cannot guarantee the exact replication of any designs and I would not wish to. Finally, if you can't decide which rack to purchase then I would recommend a trip down to the workshop.
Related Products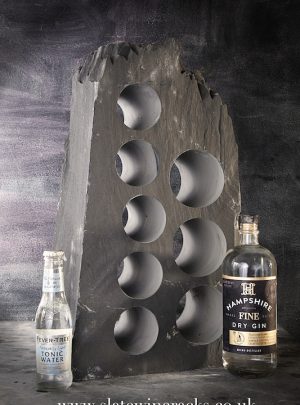 Slate Gin & Tonic Rack GT11
Slate Gin & Tonic Rack GT11 is a perfect gift for a Gin Lover. This is a neat design with 5 x smaller holes drilled for tonic bottles and 3 x larger holes for Gin. This slate is nice and clean with a carefully chiseled top that will make a real statement in any home.
£

190.00
Add to basket