Hand picked direct from the quarry waste pile in North Wales, famous for its rugged mountains. Firstly core drilled out using diamond tips to a diameter of approximately 110mm. Secondly the edges are hand chiseled to give a rugged, mountain effect. A bottle of NYETimber would look perfect in this.
Alternative popular gifts on the website include these coffee / wine table designs. Slate champagne cooler designs can also be engraved and make for great gifts for weddings, birthdays or anniversaries. Recent examples of engraved wine racks on a polished surface is 5swr37 Bespoke commissions carry a lead time of apprxiamtely 2 weeks, but may be longer during busy periods in the workshop. Commissioned by a long term client to add to their exclusive slate range. Act as great centre pieces for tables of large groups. Large stock quantities available to accommodate bulk orders.
If you require something similar or have ideas on different designs then please get in touch. I enjoy working collaboratively on new designs. Slate is a great material that maintains a constant temperature and it will chill your wine nicely. It will not expand and contract like other materials do. Please do remember that each piece of slate is different. I cannot guarantee the exact replication of any designs and I would not wish to. Finally, if you can't decide which rack to purchase, I would strongly recommend a trip to the workshop where I have over 100 racks in stock.
Contact us now to commission your own individual bespoke wine rack.
*Please Note – This is an image of a previous design that has been sold. These are all unique and individual*.
Related Products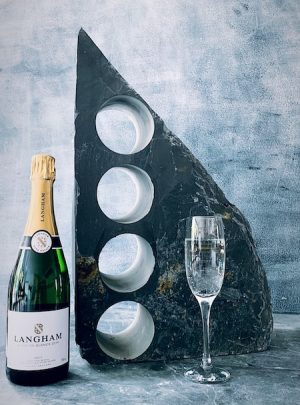 4SWRL2
Combination slate wine rack with capacity for 5 bottles of fine wine. 4 bottles fit horizontally then a ledge can be cut out for a further bottle to sit vertically, displaying the label. This purposely hasn't been cut yet so it can be made to your specific requirements. This could be made for a Champagne Bottle, Wine or Gin bottle size. Ideally the top of the bottle would finish parallel with the slate edge.
Please see additional images for previous designs and how this will finally look. This combination slate wine rack ledge can be cut to size to fit your bottle perfectly.
£

175.00
Add to basket
You may also like…
Slate Wine Table
Slate Coffee / Wine Table. 2 x holes cored out with a toughened glass top for resting your bottle of bubbly and glass.
£

200.00
Add to basket