Hand picked direct from the quarry waste pile in North Wales, famous for its rugged mountains. Firstly core drilled out using diamond tips to a diameter of approximately 110mm. Secondly the edges are hand chiseled to give a rugged, mountain effect. A bottle of NYE Timber would look perfect in this. Alternative popular gifts on the website include these coffee / wine table designs. Slate champagne cooler designs can also be engraved and make for great gifts for weddings, birthdays or anniversaries. Recent examples of engraved wine racks on a polished surface is 5swr37. Natural stone champagne holders are great centre pieces for tables in restaurants and corporate events, they also complement our small, medium and large wine racks in any setting. Large stock quantities available to accommodate bulk orders. Please note as I produce large numbers of these champagne coolers it's impossible to photograph every piece individually. Textures, rivens and shapes will vary due to the nature of Welsh Slate.
Related Products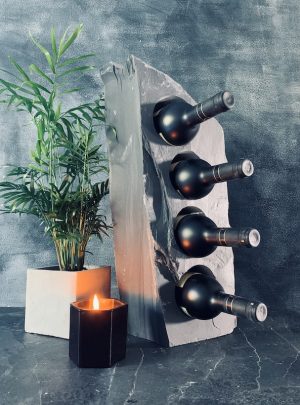 Slate Wine Rack 4SWR121
Slate Wine Rack 4SWR121 is a small wine holder hand crafted from genuine Welsh Slate, with a capacity for 4 bottles in a linear pattern. The clean natural edges of this piece give it a subtle organic ambience. A beautiful gift for a wine loving friend or family member.
£

159.00
Add to basket