Portland Stone Gin Ledge engraved with Gin of the Week. Crafted from world famous Portland Stone from the Jurassic Coast, Dorset, UK. Cut and chiseled by hand to create a natural edge. The ledge is sawn and chiseled out in a L shape. The top of the ledge is then core drilled for a light to be fitted. Finally a channel is cut out from the base to allow the cables to run through to a plug. The face has been carved with 'Gin of the week' and infilled with gold leaf. This makes a great feature and platform to display your favourite Gin. Ideal gift for a gin lover.
Related Products
ON SALE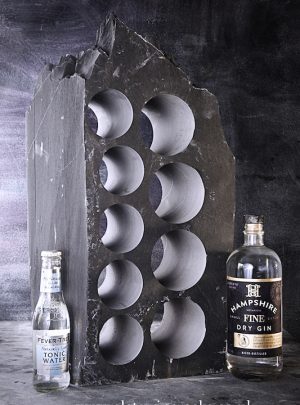 Slate Gin & Tonic Rack GT9
Slate Gin & Tonic Rack GT9 has 5 small holes for Tonic and 4 larger holes for Gin, core drilled in a linear fashion with a stunning central jagged top which looks just like a mountain. Consistently grey in colour with the inside of the cored out holes being lighter. This slate gin tonic rack is quite a large rack and makes a real statement.
£

220.00
Add to basket