Chunky slate wine rack with capacity for 7 bottles of fine wine. Carefully core drilled from world famous Welsh Slate. Hand picked from a quarry in North Wales. Holes are approximately 90mm in diameter. All the cores are retained and split down as coasters. These are then oil'd and felted. Larger holes can be drilled but on a commission only basis. This is the perfect size for storing both a standard size wine bottle and a slightly larger sparkling wine bottle.
The edge is natural but has a clean finish so could be carved with names or phrases for a wedding, birthday or anniversary to personalise it, which makes as a great gift. For example of previous designs see the SOLD category. For inspiration on what wine to fill this with, check out the Fine Wine website.
Another chunky slate wine rack very similar to this but with more angles and character is 8swr48.
If you have any further questions about this particular design then please contact us now. Slate is a great material that maintains a constand temperature and it will chill your wine nicely. It will not expand and contract like other materials. A sturdy floor is recommended however we can make up a slate base to be able to spread the weight evenly and prevent any damage to tiles. Please do remember that each piece of slate is different. I cannot guarantee the exact replication of any designs and I would not wish to. Finally, if you can't decide which rack to purchase then I would recommend a trip down to the workshop.
Related Products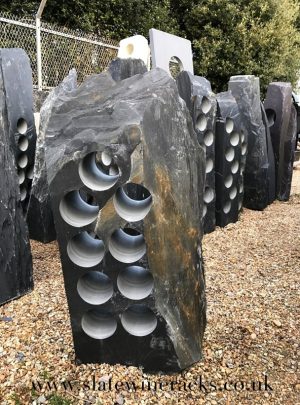 9swr5
Natural stone rust colours contrast against the deep blue/grey in this stunning slate wine rack, perfect to display up to 9 wine bottles. Jagged pointy top.
£

300.00
Add to basket