Carrara Marble Wine Holder with capacity for 14 bottles of fine wine. Marble Wine Racks are by far the most expensive and premium range of materials I work with. It was a task in itself to source this marble direct from the quarry in Carrara, Italy. Transportation was also very costly due to the weight of the raw blocks, then the time taken to core dill through this sold marble, which chewed through the diamond tips on my core cutters. Drilling took twice as long per core hole compared with the welsh slate wine racks I produce. However, all of that aside, the finished results are truly spectacular.
The cores extracted are weighty themselves and I have re drilled a few of these as candle holders.
The rack is predominantly white in colour but has random greay streaks running right the way through it. This is clearly evident on the face of the wine rack but then this also continues right through the rack. Due to the cost of this Limited Edition project, only five Carrara Marble Wine Racks are available, these being 10, 10, 12, 14 and 16 holes. I could potentially create these to a clients custom requirements but there would be a long lead time on this. The target market for this carrara marble wine rack style is the luxury interior design sector with Marble kitchens, and this carrara marble wine holder is the perfect wine cooler accessory.
My Slate Wine Racks and Portland Stone Wine Racks are both equally as striking in appearance as these Marble Wine Racks, but are more cost effective ways to achieve stunning finishing touches.
Check out this video of how The Chief delicately positions the diggers for precision extraction of this striking Carrara Marble.
Picture taken in Porcelanosa showroom Southampton UK.
Related Products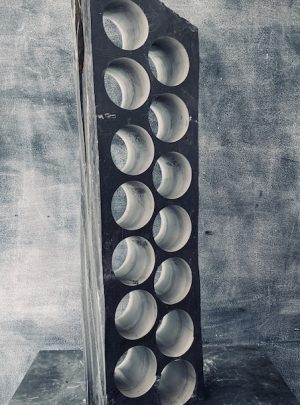 14swr11
Large slate wine rack cored drilled in a staggered, linear double row fashion. This doubless the storage capacity whilst minimising the floor space required.
A sloping top finishes off an endless streaky, wavey style natural edge. Predominantly grey in colour with a few rustic tints, this rack has only recently been added to the website.
The edge is slightly layered and quite clean so could accommodate a carving or engraving. These make great gifts for birthdays, weddings or anniversaries for that personal bespoke touch.
£

420.00
Add to basket