Tenby Gin distilled in the heart of Pembrokeshire has deservedly scooped up a number of awards over recent months. Created by Charlotte who runs the popular Nook & Cranny in the centre of Tenby, the Gin combines 8 botanicals in a very complimentary way.
Check out this recent review on The Gin Guide.
Tenby Dry Gin is a charming, flavoursome gin and this is achieved by the simple focus on two core flavour profiles – citrus peels and rosemary. The bittersweet citrus profile gives notes of sweet orange, bitter orange, tangy grapefruit and zesty lemon while the rosemary delivers balancing herbaceous notes, all layered on a core of juniper, coriander seeds and gentle spice from cardamom. Through not overcomplicating the gin it is possible to clearly identify the key flavours, which makes it engaging and memorable, and an enjoyable gin all round. ​- Paul Jackson, 2020
The Nook & Cranny have recently started offering a tasting experience where you can book a time slot and experience a range of Gins and Spirits in their Botanical Lounge. There are a range of offerings to cater for different size parties and it's not just Gin, you can opt for Rum, Cocktails or party packages. We advise booking this in advance though as during the peak season this understandbaly gets very popular with holiday makers visiting Tenby.
Tenby is an absolute magnet for tourists during the Summer Months and although the streets around town can become avery crowded, step away from the hustle and bustle and explore the award winning beaches and stunning scenery surrounding the town.
Tenby is also famous for the grueling IRON MAN race which is next scheduled for September 12th 2021. This is one of the toughest courses on the circuit with a few hills thrown in just to test the athletes that little bit extra. If you don't feel like taking part, it is still worth a visit to cheer on the athletes as thousands flock to the town, but be sure to book accommoidation well in advance as everywhere gets booked up very quickly.
The iconic lifeboat station at Tenby featured in one of my favourite TV Programmes Grand Designs.
The old station was beyond repair, as a new state of the art launch pad was commissioned, a regular visitor to the town snapped up this iconic gem and set about a mammoth project to transform the station into an absolute one off holiday home.
If you're interested in this project then you can follow the entire transformation here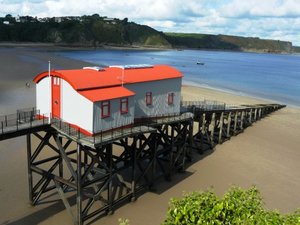 If you would like to be featured in our series of blogs then please get in touch via our contact page here 
We're always keen to work with Vineyards and Distilleries and help promote where possible.
All photos of Tenby Gin are owned and copyrighted by Pembs Gin Co