With the Beast from the East and it's second smaller phase, the cold snap burst the main water feed into the workshop which halted all core drilling. This didn't stop me though as I was able to get on with finishing off a few smaller projects and then start to plan some exciting new ideas and projects which are in the pipeline.
After mulling over some ideas for a number of years and trying to plan out a dream photoshoot, a quick 10 minute conversation with a new follower from Instagram has secured the most exciting photo shoot to date. I'm so excited about this and I just know it's going to be awesome. I can't divulge too much at this stage but it's going to involve some stunning stone and an iconic location.
Great progress is being made on the Chelsea slate memorial with another load of hours being invested into this stunning design. I can't wait to get this one finished. Already planning the next one.
Just as the weather has turned and showed a glimmer of Spring both Designers and Landscapers have been ordering some more unique pieces. The Pyramid water features are proving to be popular once again and I have a number of Window Stones and Water Feature Wine Racks being prepared and marked up ready for drilling.
I've recently completed this carving of a slate bench which was a real pleasure to work on and customised to celebrate a designers 50th Birthday.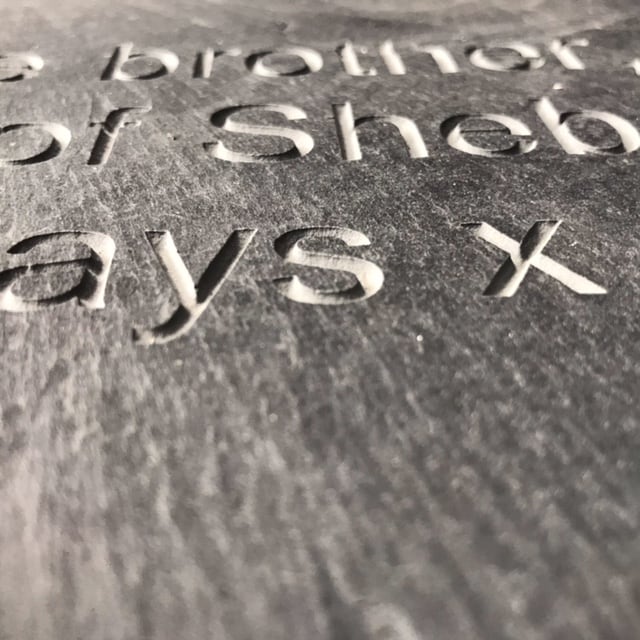 In addition to all of this, I've also completed a new design which meets a customer brief of being able to display their wedding day bottle of champagne in an upright position and also storing a small number of bottles neatly. I just need to complete the editing on these pics and will be able to share these shortly.