Barti Ddu Rum Tray made from welsh slate. This was a bespoke design commissioned by a client that worked out so well I thought I would produce a few more.
Firstly the slate was cut down to size and then 2 holes counter sunk either side for the glasses, this was then carefully chiseled out. These are approx 90mm diameter but different sizes are available. Secondly, a welsh dragon was carved out and painted white. Space was left above the dragon for a bottle or decanter. Finally holes were drilled for brass handles to be attached for portability. These were countersink from underneath so screws were hidden. Adhesive felt feet were then added. Finally finished off with a thin coat of linseed oil.
If you like this Barti Ddu Rum Tray but would like to modify in any way, these can be made to any size or shape and customised with names, dates and logos. Contact us now with your requirements. Bespoke work normally carries a turnaround of 2 weeks from payment and order completion. This may be extended during busy periods but please use this as a guide. If you would like to discuss your ideas then you're welcome to call the office or contact us via Email. For larger individual designs and commissions then I would encourage a visit to the workshop to see the range of products currently in stock. These are all listed on the website, over 200 of them but it's very difficult to show all the natural markings and characteristics. Strictly by appointment only.
A larger whisky tray version is currently available here on the website.
Check out the Barti Ddu website now to purchase your bottle.
The workshop is currenlty closed to the publice due to the coronavirus outbreak. Deliveries continue as normal.
Related Products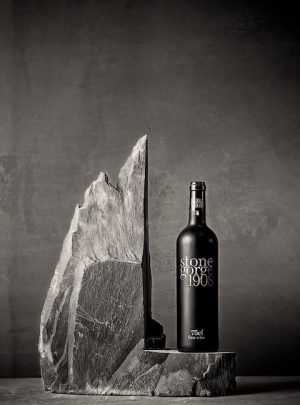 Slate Ledge
Ledge slate wine rack carefully cut and crafted out of a single piece of welsh slate. This design allows your favourite bottle to be displayed in an upright position thus making the label clearly visible.
This is by far the most time consuming design I create.  Each piece varies and the dimensions listed are purely a guide.  The key design principle is the ledge is the same height as the bottle so the top edge finishes parallel with the slate top.
I also produce these in Portland Stone.
£

150.00
Add to basket