Stylish slate wine rack with capacity for 8 bottles of fine wine. Sawn base and core drilled using diamond tipped drill bits. I then retain the cores and most importantly re use them, splitting these down as coasters. Finishing them with oil and a felted base. THese can be purchased here. Holes are approximately 90mm in diameter. Smaller beer bottle or larger champgane holes can be drilled upon request.
This is the perfect size for storing both a standard size wine bottle and a slightly larger sparkling wine bottle. Check out Waitrose Cellar for some inspiration and great offers on Wine and Champagne.
Contact us now to commission a bespoke persoanlised wine rack. These are popular for birthdays, events or celebrations.
With a clean natural edge this could easily be carved. A recent example of this is 5swr37 Average lead times is approximately 2 weeks but can take longer during busy periods.
Looking for a bigger alternative stylish slate wine rack then see 10swr11 which has a rough, rugged finish. Slate is a great material that maintains a constant temperature and it will chill your wine nicely. It will not expand and contract like other materials. A sturdy floor is recommended however I can make up a slate base to be able to spread the weight evenly and prevent any damage to tiles. Please do remember that each piece of slate is different. I cannot guarantee the exact replication of any designs and I would not wish to.
Finally, if you can't decide which rack to purchase then I would recommend a trip down to the workshop where I have over 100 racks in stock.
Related Products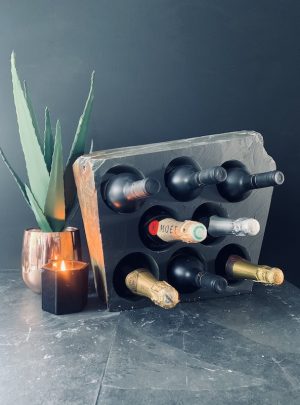 Slate Wine Rack 8SWR14
Slate Wine Rack 8SWR14 has a 3-2-3 hole configuration for showcasing up to 8 wine bottles. The front face is a cool blue while the edges have vibrant splashes of 'fools gold' iron pyrite.
£

295.00
Add to basket