Firstly the combination slate wine rack holes are cored out using diamond tip drill bits in a linear fashion. These cores have been retained split down and recycled as coasters. Holes are approximately 90mm in diameter which is perfect for both a standard wine bottle as well as a slightly larger sparkling wine bottle. At additional cost, a ledge can be carefully cut out on the natural face to showcase your preferred size of bottle vertically, contact me for customisations. Slate consists of unique properties which will keep your wine at a consistently cool temperature. It won't expand and contract like other materials. This design would suit any contemporary or traditional style kitchen, ideally placed on top of a worktop. These make great gifts for wine lovers, birthdays, anniversaries and celebrations.
Related Products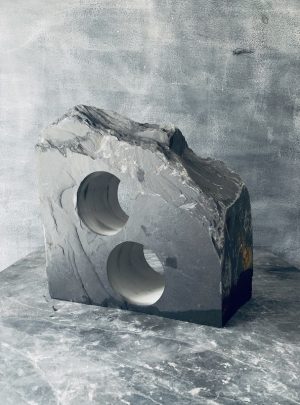 Slate Wine Rack 2SWR27
Beautiful and unique slate wine rack in a small mountain shape, to display two wine bottles. Consistently grey in colour with the inside of the cored out holes being lighter.
£

60.00
Add to basket