4 hole Downhill Slate Wine Rack with a splash of rustic tints running through the grey slate. This rack reminds me of the tramways running through the various inclines in the old disused slate quarries, such as Dinorwig. Sawn base and core drilled using diamond tipped drill bits. I then retain all the cores and more importantly re use them, splitting them down as coasters. Finishing them with oil and a felted base. Holes are approximately 90mm in diameter. Smaller beer bottle or larger champagne holes can be drilled upon request. Therefore the perfect size for storing both a standard size wine bottle and a slightly larger sparkling wine bottle.
The sloping top edge provides a perfect platform for carving and engraving. Perfect for a kitchen worktop in a rustic vintage environment or equally a more mondern contemporary interior. If you're looking for something similar to this rack then please contact us with your requirements as we have lots more slate in the workshop waiting to be cut and drilled. Alternatively, 5swr39 is available on the website. Bespoke commissions are currently turned around within 2 weeks however this may be longer during busy periods.
Related Products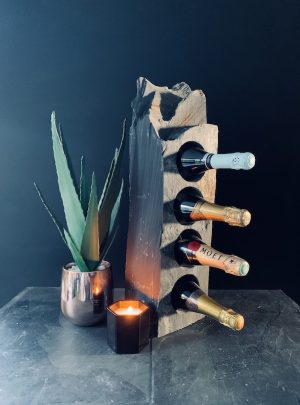 Slate Wine Rack 4SWR120
Slate Wine Rack 4SWR120 is a slim, lightweight wine showcase stand crammed full of character and rustic tones. A nice splash of fools gold on the front and the top completes this beautiful wine holder.
£

159.00
Add to basket