Slate Wine Rack 1SWR19 is a simple single hole core drilled from Welsh Slate.  This design takes up minimal floor space and looks stunning at the same time. Sadly the wine is not included and is for display purposes only. This is the perfect gift for a wine lover to celebrate a birthday or anniversary event.
Sourced from the quarries at the heart of slate country in North Wales, UK. The cores, once removed are split down and used as coasters, felted, cleaned and oil'd and are available in packs of 4 on the website here.
If you like slate wine rack 1SWR19 but require something on a larger scale please browse our Large Slate Wine Racks category.
If you would like to commission your own unique design then please contact us via phone or email and we can work with you to source and create the wine rack of your choice.
All designs are available for collection from the workshop, but please contact to make an appointment as I am often out delivering or visting the quarry to restock on material.
Related Products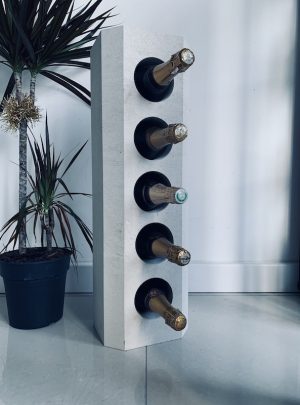 Stone Wine Rack 5PSWR5
Stone Wine Rack 5PSWR5 is a beautiful contemporary wine holder with capacity for showcasing up to 5 bottles of fine wine. Core drilled from world famous  Portland Stone, this piece has sawn faces and clean polished sides.
£

350.00
Add to basket