Green Slate Wine Rack 6GLS1 has a capacity for six bottles of fine wine. Hand crafted from real Lake District green slate, this is a completely unique piece with absolutely fabulous natural green detailing throughout the stone. A real show stopper, this piece is certain to be a talking point in any kitchen, living space, office or commercial entertainment setting. It would make a unique gift for him or her on a birthday, anniversary or for something really unique at Christmas!
Related Products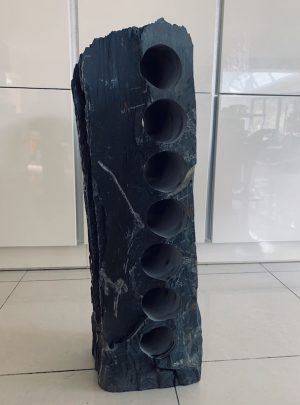 Slate Wine Rack 7SWR24
Chunky slate wine rack in beautiful dark blue/grey tones, holds up to 7 wine bottles. Consistently grey in colour with the inside of the cored out holes being lighter. Current picture shows the face slightly wet after a wash so this will dry slightly lighter.
£

300.00
Add to basket