Curvy slate wine rack with capacity for 7 bottles of fine wine. Hand picked from a quarry in North Wales, famous for its mountains and rugged landscape. A mecca for walkers and climbers. If you would like to explore this area some more then Check out The Frozen Divide for some great guides and hints and tips on the area.
Sawn and drilled in the workshop, the cores have all been retained and used as coasters. Bases felted and oil'd to finish. These are available for purchase here. Holes are approximately 90mm diameter which will accommodate a standard size wine bottle and also a larger sparkling wine bottle. Larger holes for Craft Gin and larger Champagne bottles can be done for private commissions.
This rack has recently been chosen as my rack of the week feature.
This is quite a large rack and makes a real statement. However if you do require something slightly bigger then I would recommend 10swr12 which is very similar in style and presence. These designs make a great gift for Birthdays, Anniversaries, Weddings or special events. They can also be engraved for that personal touch. If you have any further questions about this curvy slate wine rack design then please contact us now. A sturdy floor is recommended however I can make up a slate base to be able to spread the weight evenly and prevent any damage to tiles. Please do remember that each piece of slate is different. I cannot guarantee the exact replication of any designs and I would not wish to.
Finally, if you can't decide which rack to purchase then don't hesitate to contact us, alterantively I would recommend a trip down to the workshop.
Related Products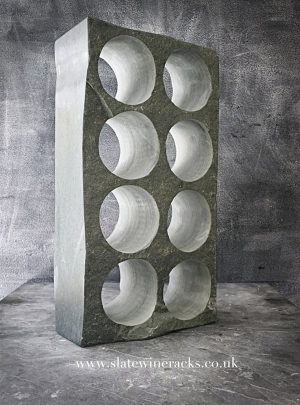 8GSL1
Stunning rectangular tower Green Slate Wine Rack with a capacity for 8 bottles. Stunning stripey green shades running right through the slate.
£

160.00
Add to basket